Mark's mom came to visit us last weekend! Mark and I slept on our squeaky blow-up mattress and his mom slept in our tiny sublet bed. It was like a big slumber party for three nights! And we had the best time ever.
She treated us to lunch at Chez Panisse Cafe, something we definitely couldn't have afforded on our own without jobs. We ate salmon, perfectly baked inside a fig leaf, pizza with wild nettles, and fresh figs, pluots, and huckleberries for dessert. Mhmm, was it delicious.
We went the the Berkeley Botanical Garden and the Berkeley Rose Garden just to check out the pretty flowers. My gosh, I wish I was in charge of coming up with the names for roses. There are Garden Party roses, Summer Breeze roses, Madonna roses, Golden Showers roses (seriously). There are 3,000 rose bushes and over 250 varieties of roses! It was a dream!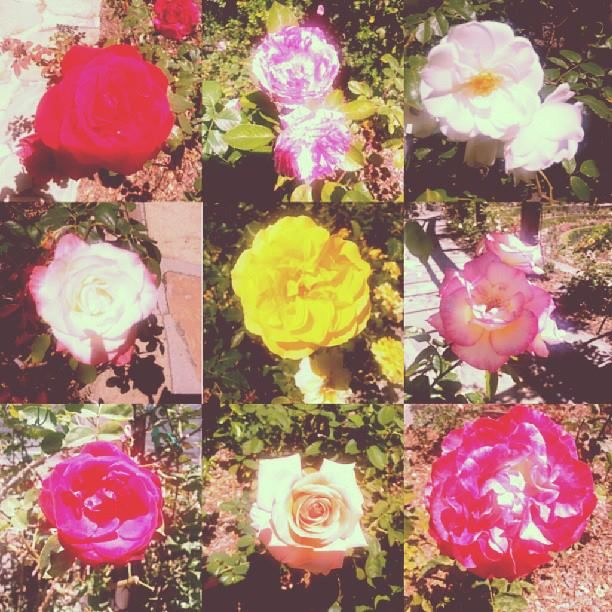 It was so nice to have our mama come visit. We really wanted her to fall in love with the area so she'd consider moving here, and I think we succeeded! Even when we were exploring San Francisco, she said she wanted to go back to Berkeley. I think she understood what Mark and I see in this place.

And while we're on the topic of mothers-in-law, I'm just so happy I lucked out with mine. I think it's really important to feel like you're your in-laws' child, too, and I definitely feel that way with Mark's mom. She babies me just as much, if not more, than she babies Mark. She gives me unsolicited advice like any good mom would. She makes sure I'm eating enough, drinking enough water, and always knows that an Anthropologie gift card is much appreciated. We're just lucky kids.